What happens if I already took my RMD? Four CARES Act Questions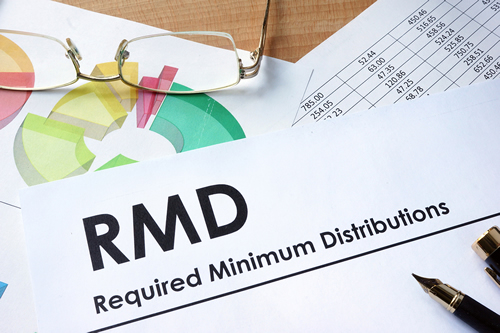 The CARES Act was passed in March 2020. The legislation provided economic relief in various forms— one of these forms was to provide relief to those who use tax favored retirement accounts.
Many of our clients' largest asset are their IRAs and 401(k)s. For years, when someone turned 70 ½, they would be forced to take a distribution from their IRA / 401(k) and pay taxes on that distribution—even if they didn't want the money. This event is known as a Required Minimum Distribution (RMD). It's a way for the government to raise revenue. In December of 2019, much to the pleasure of taxpayers, that age of 70 ½ was shifted to 72, under the SECURE Act. Now, under the CARES Act, all of this has changed:
What is the Required Minimum Distribution Suspension?
There is no requirement for those with tax favored retirement accounts to take distributions in 2020. Those who were born before July 1, 1949 are normally required to pull money out of their retirement accounts at age 70 ½. Those born after June 30, 1949 are required to do so at age 72. In normal years, there is a 50% penalty for not taking money out of these accounts. 2020 is not a normal year—thus, this requirement is waived for all.
This benefits our clients in various way. We have a client in Pasadena who is 75 years old, but she is still practicing medicine and works full time. In normal years, she would have to take a distribution from her IRA—even though she doesn't need the money. She owns mostly bonds, but she also owns quite a bit of Disney and Delta stock. If she were to liquidate her this stock this year to take her RMD, she would be forced to sell at a terrible time. Moreover, the income she would take out of these accounts would be taxed heavily, which isn't ideal during a recession. Under these CARES Act rules, she does not have to take a distribution. She can let her money continue to go tax free. When she is forced to take her RMD in upcoming years, she can be hopeful that it will be at or near its all-time high.
Does the RMD suspension apply to Inherited IRAs and Inherited Roth IRAs?
The RMD suspension also applies to those with Inherited IRAs and Inherited Roth IRAs. Beneficiaries who have not taken an RMD in 2020 can skip it this year.
Whether the account was inherited before or after the SECURE Act, beneficiaries do not have to take a distribution this year.
Even not eligible beneficiaries who typically withdraw inherited IRAs within five years do not have to take a distribution this year.
Can I put back a Required Minimum Distribution if I took it earlier this year?
Just after the CARES Act was passed, it looked as those who already to an RMD would be out of luck. However the IRS has issued new guidance that anyone who took an RMD between February 1st and May 15th may put their money back by July 15th.
For anyone who takes an RMD after May 15th, they have 60 days to put the RMD back.
This rule does not apply to anyone who rolls over funds from one IRA to another in the past 365 days (A rollover from a 401(k) and similar accounts is okay).
Anyone who took an RMD in January has no recourse under the CARES Act. It may be possible for someone to open a new IRA, contribute their January RMD to the account, and take the deduction thus getting their taxes paid back via refund in 2021.
Keep in mind, back in 2009, the IRS also suspended RMDs. Those who had already taken them were given the option to put them back past any 60 or 120 day window. It is possible the IRS will issue similar guidance later this year.
If I already took an RMD and put the money back, how can I get back my taxes that were withheld?
You will not get an immediate refund. However, there are various strategies to recoup what you have paid.
Let's say that you took a $50,000 distribution in March and you had $15,000 in taxes withheld.
You have the ability to return your $35,000 you received and add an additional $15,000 from your personal funds to make up for the taxes withheld to the IRS. This allows your broker to buy back the securities you sold for the RMD.
To make up for the taxes, you can reduce or withhold your quarterly estimated payments or wait for a refund on your 2020 return.
You could also let the government keep your $15,000 payment and convert the $35,000 distribution to a Roth IRA. You must do the conversion within 60 days of taking the original distribution, or by July 15th, whichever is later, if the distribution was taken between February 1st and July 15th.
Once the $35,000 is in a Roth, the growth will be entirely tax free and no more RMDs will be required of you in the future.
What do I do now?
CunninghamLegal offers video conferencing and telephone appointments to ensure that each person's estate plan is up to date. As you know, we are busy during this time, but we are trying to meet with as many clients as possible.
We are even able to help people update estate plans without any face to face meeting.
Schedule a meeting with us here.
We wish you and your family the best during this time. Please pass this information on to anyone who you think can benefit.