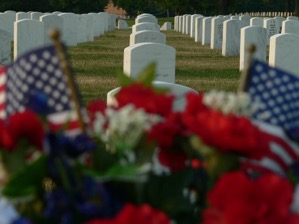 The National Defense Authorization Act (NDAA) for the fiscal year 2020 could bring change for our country's Gold Star families and survivors of fallen veterans. If passed, it could repeal a law nicknamed the Widow's Tax that currently, "affects more than 65,000 military families nationwide, costing each an average of about $11,000 per year," in lost compensation.
Under current law, surviving spouses of veterans can be eligible to receive two types of compensation: the Dependency and Indemnity Compensation (DIC) as well as the Survivor Benefit Plan (SBP). The DIC is free to enroll and provides roughly $15,000 a year to surviving families. Families of service members who enroll in the SBP can receive, "up to 55% of their veterans' retirement after their death, similar to private life insurance." Although SBP payments are subsidized by the Department of Defense, enrolling service members are required to pay up to 6.5% of their retirement benefit to be eligible. Surviving spouses that qualify to receive benefits from both the SBP and DIC do not currently receive the full amount from both plans. For every dollar paid out under DIC, the SBP payments are reduced by a dollar, thus gaining the name the Widow's Tax.
Congress estimates that repealing the tax would cost "$5.7 billion over 10 years." For the first time there is now a real possibility of repealing the Widow's Tax with the passing of the 2020 NDAA. There is bipartisan support for repealing the tax and advocates for the repeal include the Military Coalition, "a group of 32 military and veterans organizations," such as the Wounded Warrior Project, National Military Family Association and the American Legion, all pressing for the legislation to pass.
Whether the repeal of the Widow's Tax in the NDAA will pass remains to be seen, and we understand what a critical issue this is for families who have lost a service member. We are committed to staying up-to-date on the latest developments as they unfold. If you or your loved ones have questions about how tax and law changes can impact your Estate Plan, contact our team.