MONETARY FALLBACKS FOR DISABILITY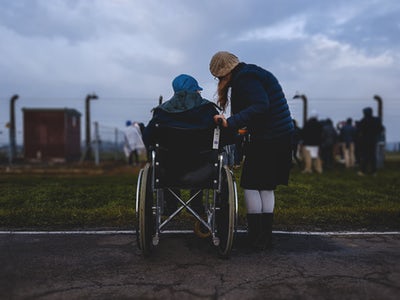 When you talk to estate planning attorneys, they will tell you plenty of stories in which a frazzled man or woman has come into their office and said, "I'm done. I can't handle it anymore. I've been taking care of my spouse for four years, and I'm physically worn out. I'm emotionally drained. What can I do?"
Like my grandma, these folks have been the primary caregivers for people who cannot bathe themselves. Cannot use the toilet. Cannot feed themselves. People who may stay up all night and sleep all day. Who have numerous doctors' appointments which require difficult trips in wheelchairs and special transportation.
Even a strong, young person would find it difficult to provide this care. But often, these heroic caregivers are in their seventies, eighties, or even nineties. They come in to an estate planning office to find out how they can institutionalize their spouse. "I have to do this today," they say. "It's over. Help me figure this out."
Most people cannot afford $3,000 to $30,000 or more a month for board and care or skilled nursing facilities. When they try, they often end up impoverishing themselves in the process. Just because one spouse moves into an institution, it doesn't mean that the basic expenses of the other spouse are greatly reduced. And what if both spouses become disabled?
Many people assume that the government will step in to help with long-term care. But most government programs provide help only when you become truly impoverished— generally defined as having less than $2,000 to just under $15,000 in total assets depending on which state you live in. Programs may also be available for veterans and surviving spouses of wartime veterans. This is called "aid and attendance.
HOW ESTATE PLANNING CAN HELP
It's beyond the scope of this book to explore all the options for long-term care. Every situation is different, and you need to do a lot of research. But proper estate planning using a qualified attorney who understands such issues can open up important options.
For example, using a durable power of attorney for property, we can sometimes move assets completely out of a sick spouse's name into the spouse's name who is not sick, so that the sick spouse can qualify for public assistance benefits and move into a nursing facility. Meanwhile, the well spouse can stay at home, often with much or all income and assets intact. As noted above, however, these powers of attorney must include gifting rights, which are not commonly included in such documents.
The government generally does not object to these transfers of assets or punish you for making them, because they really do not want the surviving spouse to be impoverished by paying for long-term care. Once impoverished, he or she becomes an additional burden on the public good.
But there are very low limitations on what can be transferred without triggering a period of disqualification for public assistance benefits. If either spouse has more assets, then the transfers may result in a period of ineligibility.
Again, an irrevocable trust will often be used as part of this planning strategy.
If such instruments are already in place before the disabled spouse loses mental competence, such an action may be fairly simple. Wait too long, and you will have to go through a court proceeding to get these powers, with less predictable results. In fact, many judges will not grant orders transferring assets of someone who has lost mental capacity.
Please do not make the common mistake of assuming spouses have the power to make these significant legal moves just because they have joint bank accounts or joint tenancy in a house. To actually move titles to real property, change the form of assets, and alter the character of ownership, requires advanced legal planning and specific documents—or a court order.
For example, if a wife wanted to take full ownership of a rental house to protect it from being counted as an asset for her husband, she might have to go to court and apply for the appropriate court order transferring the rental house to her. If her husband had simply signed a durable power of attorney with gifting authority for her in advance, no such court action would likely be necessary.
Of course, different states may offer greatly differing legal opportunities, definitions of indigence, and public benefits. And you absolutely need an expert attorney with specific training in such issues. To move assets around to protect spouses, you cannot use a "general purpose lawyer." Even most estate planning attorneys have little to no competence in this realm, sometimes called "elder law." It's a specialty within a specialty.
For more advice on choosing an attorney, please see the Introduction.
WHAT ABOUT LONG-TERM CARE INSURANCE?
You will find two schools of thought about long-term care insurance. One school says that everyone should buy a policy. The other says that your premium money would be better invested elsewhere.
You should certainly investigate any long-term insurance policy closely, as it must be considered in relation to your particular circumstances. I recommend clients discuss the subject with their financial advisor and other appropriate stakeholders before taking any action.
Long-term care insurance will cover you if you can't take care of yourself in very specific ways. Unfortunately, most policies do not cover 100 percent of the costs, and they generally have significant limitations. For example, policies often require a waiting period in which you have to be sick for perhaps ninety days before they kick in. Complications on this provision often arise related to dates of discharge from one facility to another, from rehab to board and care, or from Medicare to private insurance, etc.
These technicalities often delay the start of your long-term care benefit—making it impossible to access your policy when you need it most.
In addition, these policies often include a lifetime cap, meaning they may only cover "long-term care" for three or four years.
Usually, they also include daily maximums which may not allow for the kind of care or facility you require. Even worse, your daily maximum may not be tied to an inflation index which increases over time. The maximum may be a flat rate, meaning that if you bought a policy twenty years ago that paid a flat $100 a day, it won't cover a contemporary facility charging $300 a day plus extras (and there are always extras). You will have to make up the difference.
Bottom line: just because you buy a long-term care policy does not mean you are covered for long-term care. Do plenty of homework and get professional advice before you sign on the dotted line.
This has been an excerpt from the book Savvy Estate Planning by Jim Cunningham. For more information on how a CunninghamLegal attorney can help you, attend one of our FREE seminars.