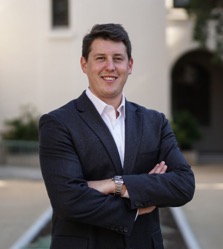 Jeff received his Bachelor of Arts degree from UCLA and earned his Juris Doctor from Pepperdine University, where he was a member of the international legal honor society Phi Delta Phi. Jeff devotes his practice at CunninghamLegal to estate planning and trust administration. He is currently working towards becoming a Certified Specialist in Estate Planning, Trust, and Probate law by the State Bar of California.
Get to know Jeff in our Attorney Spotlight:
What do you enjoy doing in your free time?
Spending time with my family and my amazing daughter. I also enjoy cycling, skiing, and hiking with my dogs Lola and Rory.
What is your proudest moment to date?
Becoming a parent. As cliché as it sounds, it changes your life and you become selfless. She recently took her first few steps and my wife and I were just ecstatic and so proud of her.
What sets you apart from other estate planning attorneys?
I'm close to becoming a Certified Specialist in Estate Planning, Trust, and Probate Law by the State Bar of California. While many attorneys practice estate planning, not many are specialists. It's very, very important you see a specialist, just as you would see a specialist for a medical condition. I am also very passionate about educating clients and believe an educated client is an empowered client. I have a knack for explaining complex legal concepts into terms anybody can understand.
What is the most common problem you see in estate planning?
I often review estate plans that were prepared by attorneys from other firms. At times I see outdated language or laws. I don't think people realize how much laws and standards change in our industry. These laws may affect estate plans, so I strongly believe in reviewing and making sure my client's plans are as up to date as possible.
What would you say separates CunninghamLegal from other estate planning law firms?
We truly care about our clients and communities. Every day I get to transform legal difficulties into positive opportunities by helping our clients reach some of their most important goals. We are all about education and invest in educating our clients so that they can make the best decisions for the long term. One of the ways we educate our clients is by holding seminars to talk about new laws that may have changed, new ways to pass assets to your loved ones that protect both you and them, and how to make you the most money and keep that money in your and your family's wallets.