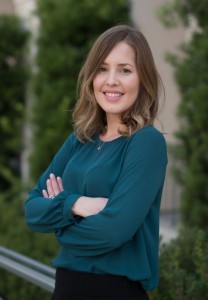 Danielle Johnson
Paralegal
Southern California Offices
(626) 585-6970
Prior to working for CunninghamLegal I had been working as a Paralegal for Estate Planning Certified Specialist Stephen P. Bezaire for the past 16 years learning the ins and outs of Estate, Trust and Probate Law. I also spent about a year and a half in law school, but decided to withdraw so that my husband and I could start a family.  I am happily married to my best friend and we are over the moon in love with our wise-cracking toddler who definitely keeps us on our toes.
What do you do at CunninghamLegal
I am a Paralegal knowledgeable in both Estate Planning and Trust Administration.
What is the best talent that you bring to CunninghamLegal Clients:
I am detail oriented and a self-starter with a solid work ethic.
Favorite Inspirational or Humorous Quote:
"You should never, never doubt what nobody is sure about." – Willy Wonka
Favorite movie?
I love a good "chick flick" like The Notebook or Bridges of Madison County, but I also love movies like The Departed and the Kill Bill series.
Favorite book:
Sarah's Key – A very interesting and heartbreaking story that takes place in 1942 and 60 years later in 2002 about the "Vel' d'Hiv roundup" in Paris during World War II, which is something that I had never heard of before.
Where did you grow up?
I lived in Monrovia, CA until the 1991 Sierra Madre earthquake badly damaged our home forcing my family to relocate and we ended up in Temple City, CA where I lived until I graduated from High School.
If money were no option where would you travel to?
I would fly my husband and I to Paris to have breakfast at a little sidewalk cafe on Rue Cler just the way we did on our honeymoon every morning.
Biggest Pet Peeve:
When people say that people can't change. Change takes work and dedication, but it is possible.

My promise to you…our client.
To be kind, trustworthy, efficient and as helpful as I can be during a very difficult time in your life.