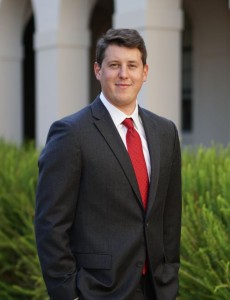 Jeffrey S. Rosen
Attorney at Law
Southern California Offices
(626) 585-6970
Jeff received his Bachelor of Arts degree from UCLA and earned his Juris Doctor from Pepperdine University in Malibu, CA. Jeff devotes his practice at CunninghamLegal to estate planning and trust administration and he is currently working towards becoming a Certified Specialist in Estate Planning, Trust, and Probate Law by the State Bar of California. What excites Jeff most about his practice at CunninghamLegal is that every day he has the opportunity to creatively and dynamically help good people achieve meaningful and important goals. Jeff is passionate about transforming legal difficulties into positive opportunities and he has a knack for explaining complex legal concepts into terms anybody can understand.
Jeff and his wife, both lifetime natives of Los Angeles, are junior high sweethearts and live in Pasadena with their two dogs, Lola and Rory. Jeff is an avid cyclist and skier, but his claim to fame is hitting a golf ball 400 yards!
In His Own Words
What do you do at CunninghamLegal?
I am an attorney in the Estate Planning and Trust Administration departments of our Pasadena office. Since no two people or families are alike, my ultimate goal is to work alongside my clients to develop and carry out a successful, easy-to-understand estate plan custom-tailored to their unique specifications.
What is the best talent that you bring to CunninghamLegal Clients?
My ability to transform complex challenges into effective and understandable solutions, as well as my passion for developing meaningful, lasting relationships with my clients.
Favorite Inspirational or Humorous Quote:

"Don't count the days, make the days count." – Muhammad Ali
Favorite movie?
Braveheart and Caddyshack
Favorite book:
The Call of the Wild – Jack London
Where did you grow up?
The San Fernando Valley, or "the other valley".
If money were limitless, where would you travel?
Chamonix, French Alps
Biggest Pet Peeve:
When the Lakers are on but the remote control is missing!
My promise to you…our client.
I am not happy until you are happy. I am not satisfied until you are satisfied. Every day I will devote myself to help you preserve and pass down the values and legacy you have spent a lifetime achieving.