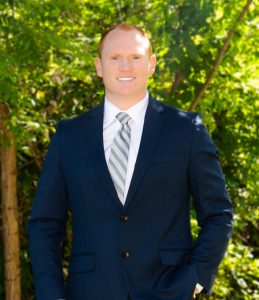 Simon LeBleu
Law Clerk – Trust Administration
Northern California Offices
(530) 269-1515
My name is Simon LeBleu, and I am currently attending law school at the University of the Pacific McGeorge School of Law evening program. My favorite hobbies are playing ice hockey and cooking.
What do you do at CunninghamLegal?
I am a Law Clerk for the Trust Administration Department.
What is the best talent that you bring to CunninghamLegal Clients?
My compassion and understanding.
Favorite Inspirational or Humorous Quote:
Life's a dance, you learn as you go.
Favorite Movie:
Dumb and Dumber, Liar Liar, The Office
Favorite Book:
Cannery Row by John Steinbeck
Where Did You Grow Up?
Dixon, CA
If money were no concern, where would you travel to?
I would backpack through British Columbia, Canada
Biggest Pet Peeve:
People who seal a zip lock bag without removing the air first.
My promise to you… our client:
My promise is to serve you with the same care, concern, and compassion that we want our families to be serviced with.