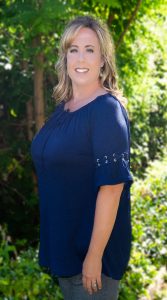 Dana DeMello
Estate Planning Administrative Assistant
Northern California Offices
(530) 269-1515
I live in Grass Valley with my fiancé and our five children. My family is everything to me. I cherish all the time that we get to spend together. As my kids have grown up into adults it is harder to find times that we can all be together at the same time. I love to refinish furniture and you will find me always looking for more pieces to do. I am a bit OCD and want things clean and organized. I find myself doing this in random places subconsciously, most times in a store or at a friend's house.
What do you do at CunninghamLegal?
Estate Planning Administrative Assistant
What is the best talent that you bring to CunninghamLegal Clients? 
I really enjoy people. I love to talk to them and hear stories about their lives.
Favorite Inspirational or Humorous Quote: 
When people show you who they really are…believe them.
Favorite Movie: 
The Notebook (I love a good love story!)
Favorite Book: 
Anything by Nicholas Sparks
Where Did You Grow Up?
Northern California. We moved all the time. My mom would like to fix up a house and then sell it. I went to 10 schools before graduating from high school.
If money were no concern, where would you travel to?
My first stop is Bora Bora and then definitely on to Ireland. I love to photograph landscapes and I think the views would be amazing in these places!
Biggest Pet Peeve:
People who don't value your time. If you say you are going to be somewhere at a certain time or do something for someone, then follow through.
My promise to you… our client:
I will always be happy to see you and will have a smile on my face.