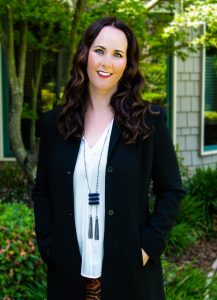 Tasha K. Jahn
Attorney at Law
Northern California Offices
(530) 269-1515
Tasha Jahn obtained an LL.M (Master of Laws) in Estate Planning from The John Marshall Law School in Chicago. Prior to this advanced degree, Tasha received her law degree from Western State University College of Law and a Bachelors in Music Business from University of The Pacific, emphasizing in the Oboe.
Tasha currently practices in both the estate planning and trust administration departments at CunninghamLegal, specifically using her LL.M education in advanced planning strategies and post death administration. She has prior experience as a litigator in Sacramento, CA and working for the Nevada Attorney General. Currently residing in Rocklin, CA with her husband and three children, she spends her spare time cheering for her kids' sporting events and being an avid tennis player.
In Her Own Words
What do you do at CunninghamLegal?
I have the pleasure of being part of a client's life forever. As an attorney, it is an honor to help clients in their planning needs, and also assist in following through with their wishes when a trust is administered. In between, I guide our clients during major changes in their life to assure the most advantageous tax path is taken and will continue to align with their estate planning goals.
What is the best talent that you bring to CunninghamLegal Clients?
I bring a unique ability to find creative solutions to estate planning and trust administrative obstacles.
Favorite Inspirational or Humorous Quote:
Educating the mind without educating the heart is no education at all. – Aristotle
You fight the fights that need fighting – American President
Favorite movie(s)?
American President.
Favorite book:
My most recent favorite from book club is "The Book Thief", by Markus Zusack.
Where did you grow up?
I'm a California native, growing up in Morgan Hill.
If money were limitless, where would you travel?
The moon.
Biggest Pet Peeve:
Someone saying "I can't", before they ever try.
My promise to you…our client.
I promise to listen to your needs, support you through life decisions, and do my best to alleviate the stress associated with this area of law.